The Royal Clipper - A Mediterranean Odyssey 2018
Departing 29th June 2018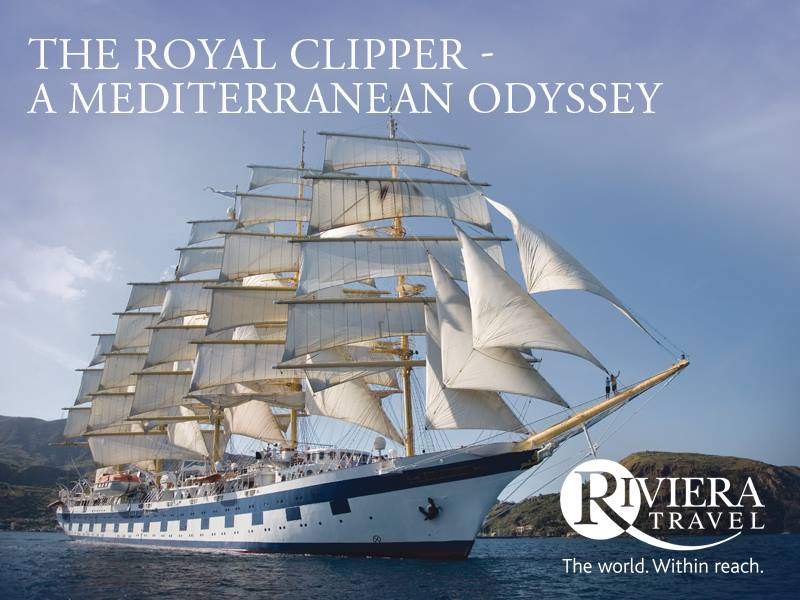 Just imagine this: gentle waves rhythmically lapping against a wind-driven hull, the smell of the salty spray on the freshening breeze, the huge taut sails majestically towering above, reflecting the dazzling sun which glints on the clear azure waters before you; a pod of young dolphins playfully dance in the curling bow wave and the backdrop – some of the most outstandingly beautiful coastlines in the world. Nothing beats the romance of being at sea on a true 'Tall Ship' so we invite you to join us aboard the magnificent SPV Royal Clipper- where ultimate relaxation and pampering awaits you!
This beautifully, traditionally built ship is living proof that craftsmanship is far from dead with both making extensive use of rich hardwoods, polished brass and wrought iron fittings, marble, deep pile carpets and tasteful furnishings which all together have created a ship of outstanding harmony, beauty and luxury. The Royal Clipper is not cruise ship and is of a sufficiently intimate size to sail close to the shore where the views are stunning, plus visiting small, fascinating ports: so not only do you have a wonderful seafaring experience, you are simultaneously able to learn much about the areas you are sailing through.

Ships are nothing without their crew and as you would expect on this prestigious craft, from the Stewards to the Captain – all are consummate professionals. You will love the informality of life on board too and you will be amazed that even within the confines of the ship you can always find places to be alone if you wish, perhaps catch up on some reading or as the sun sets, just lean over the teak rail, drink in hand and reflect how good life can be.
Experience more with so much included
Flight to Venice and return flight from Rome
Superbly appointed cabins, beautifully crafted using teak and marble on the world's only authentic five-masted sailing ship
Exquisite fine dining prepared by inspired chefs
Stay in hand-picked hotels in Rome and Venice with hotel upgrade option available
Guided tour of romantic Venice, probably the world's most unique city
Sail along the truly breathtaking Dalmatian and Amalfi coasts
Visit to Rovinj, one of the most picturesque ports on the Adriatic
Guided walking tour of Dubrovnik, glistening Pearl of the Adriatic
Visit Kotor, a nostalgic journey to the Mediterranean as it was thirty years ago in Montenegro's most dramatic setting
Absorb the history of the ancient Greek theatre in Sicily's Taormina – one of the most attractive hill-top villages in Italy
Tour Corfu's atmospheric old town – unchanged for centuries
Sail past the Aeolian Islands and Stromboli, the most consistently active volcano in Europe
Visit the stunning island of Capri
Visit to gorgeous Sorrento and guided tour of thought-provoking Pompeii – a city frozen in time
Guided tour of Rome, home to the ancient world's mightiest empire, the Vatican and some of the world's best shopping
Escorted by an experienced Tour Manager

Book Your Escorted Tour Online Today