Alaska Tours 2022/2023
If you're looking for an adventure that not only takes in breathtaking scenery but also offers a unique and wonderful travel experience, then Alaska is for you. The 'Great Land' is full of incredible landscapes from vast national parks teemng with wildlife to immense glaciers and fjords. Let the power of mother nature show you just how spectacular our natural world is. We have several Alaska Tours to choose from, where you'll be taken on an unparalleled adventure through a land of grisly bears, moose and bald eagles and even get to travel on the world famous Rocky Mountaineer.
Alaska Escorted Tours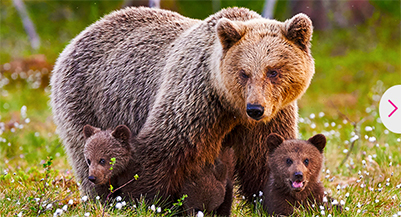 Discover the last frontier of soaring snow-dusted peaks, teal waterways inhabited by patient salmon hunting grizzlies, an endless blanket of spruce forests and a wealth of small-town hill dwellings on our sensational 8-day cruise.
From £1,759pp | 9 day Escorted Tour

Captivating vistas unfold on every turn of this trip through some of Canada and Alaska's most mesmerising scenery. Magnificent mountains, lakes and national parks fill our first few days in Banff and Jasper. The iconic Rocky Mountaineer railway transports you through forested valleys and over mountain passes. Then on a week-long cruise, spot harbour seals, humpback whales, swooping eagles and more as you sail past the monumental glaciers and snow-dusted mountains of the Alaskan fjords. Finally, we wrap up in Vancouver, one of the most liveable cities in the world.
2 days Rocky Mountaineer • 5 excursions & visits
18 days from £5,099pp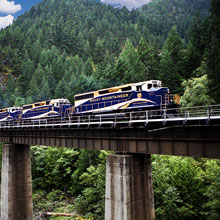 Rockies, Rail and an Alaskan Cruise
The ultimate way to discover the west, this holiday includes both a ride on the Rocky Mountaineer and an Alaskan cruise.
15 days from £4,399

Natural Wonders of Alaska
Sculpted by ice and fire and characterised by glaciers and snow-capped peaks, Alaska offers adventure in spades. As you journey through the state's canyons and national parks - by road, rail and sea - you'll spot incredible wildlife including seals, sea lions and porpoises, learn about the native Athabascan Indian culture, and travel through scenic landscapes and rugged terrain. Our Alaska tours are guaranteed to leave you stirred by the power of Mother Nature.
13 days from £3,799pp

Rockies and Alaska Grand Discovery
A blend of dramatic Canadian mountain scenery and rugged Alaskan shoreline, this 18-day cruise and tour holiday will expose you to a wonderland of scenic delights in two of North America's most glorious regions. Journey to the mountain town of Banff (gateway to the awe-inspiring Canadian Rockies and glittering Lake Louise); admire the iconic landscapes of Jasper National Park; and sightsee in vibrant Vancouver. Then, it's time to swap the Canadian Rockies for an Alaska cruise. You'll set sail on the elegant Zuiderdam or Volendam - your window to Alaska's immense coastal splendour.
18 days from £3,499pp
Book Your Alaska Escorted Tour Online Today