River Cruises 2022/2023
River cruising is a truly relaxing way to travel - sit back and enjoy breath-taking landscapes from a different perspective. Journey through beautiful rivers and waterways in Europe such as Italy, France and Portugal where you'll call in at a host of fabulous towns and cities. Below is a selection of the wonderful river cruises we have available.
The Danube is the number one river on Titan travellers' cruise wishlists.
It seems you can't wait to discover the treasures lining its banks. Book a Danube cruise and you could soon be listening to a classical concert in a Viennese palace or taking a tour of Budapest's Gothic Parliament Building. You could be sipping wine from a Wachau Valley vineyard or indulging in a slice of chocolatey Austrian sachertorte. And you could be stepping into age-old churches, baroque cathedrals and hushed monasteries.
This year, our exclusive Danube cruises will be aboard MS Bellejour. She's a great choice for making the most of those river views, with floor-to-ceiling windows in the restaurant and extra-large porthole windows (or French balconies) in cabins.
Each cruise offers fantastic value for money – you'll enjoy VIP door-to-door transfers in the UK, free-flowing wine and beer at lunch and dinner, and delicious onboard cuisine inspired by the regions you'll be cruising through.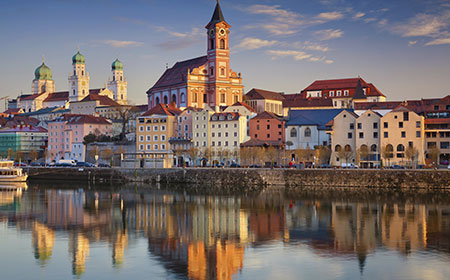 Vienna. Bratislava. Budapest. The stops on this enchanting Danube river cruise read like a list of Hollywood stars. And on this trip, they are the stars. The majesty of the Danube lies within the great cities and huddled historic towns on its shoreline. 
8 days from £1,749 per person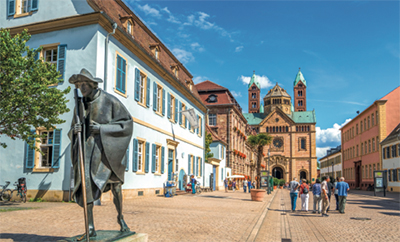 Treasures of the Rhine
Wind through three European countries via one of the continent's most impressive waterways. Excursions take you from majestic natural landscapes to soaring man-made edifices.
From £1,749pp - 8 days • MS Serenade 1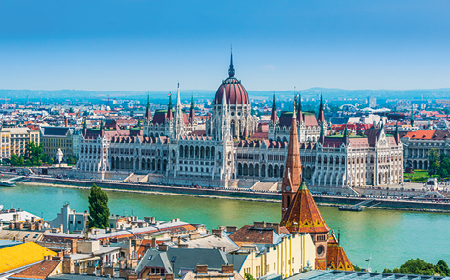 Palaces, vineyards, churches and castles – there's plenty to see as we sail from beautiful Budapest to Vienna, Melk, Linz and more.
8 days from £1,649pp
The Beautiful Rhine and the Glacier Express
Glide along the Rhine and uncover the quaint towns and historic cities that decorate its shoreline. You'll potter along the cobbled alleys and beautiful lakeside scenery in little Speyer, Rüdesheim and Breisach, passing through the magnificent Lorelei Passage along the way.
11 days from £2,599 per person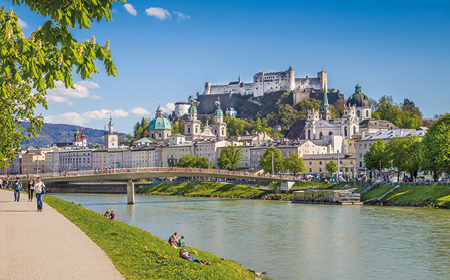 Delights of the Danube with Innsbruck
Spend an enchanting week of scenic cruising on the Danube, from one spectacular historical city to another. Hear stories along the cobbled lanes, whilst exploring grand Budapest, opulent Vienna, striking Melk Abbey and beautiful Linz. Then head to the Tyrol mountains and Innsbruck - in the heart of the Alps - for a perfect two-night conclusion.
10 days from £1,999 per person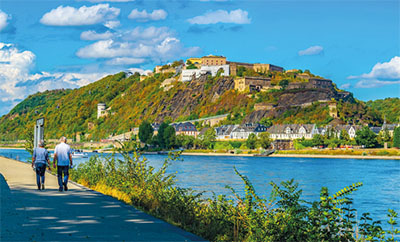 Explore the charming towns and iconic cities of the Rhine by water, cable car and on foot. Starting in famed Cologne, you'll glide to Koblenz, through the magnificent Lorelei Passage to little Rüdesheim, Speyer, Strasbourg and Breisach before ending in arty Basel. From cobbled alleys and towering cathedrals to vast vineyards and beautiful lakeside scenery, you'll experience the best of city, town, and countryside as you float along this delightful waterway.
8 days from £1,749pp
Cologne - Koblenz - Rüdesheim - Speyer - Strasbourg - Breisach - Basel
Includes 3 excursions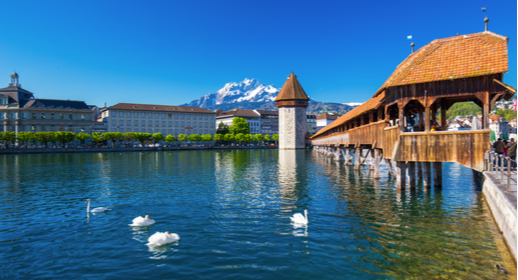 Lucerne and the Legends of Germany

This city break and Rhine river cruise starts in romantic Lucerne, where we'll tour Mount Rigi by mountain railway, and explore Lake Lucerne by boat, surrounded by some of the most stunning scenes of Switzerland. We then take to the Rhine, where enchanting landscapes, including the nearby Black Forest, have fuelled legends of beautiful sirens and fairytales of witches and wolves. 
10 days from £2,399 per person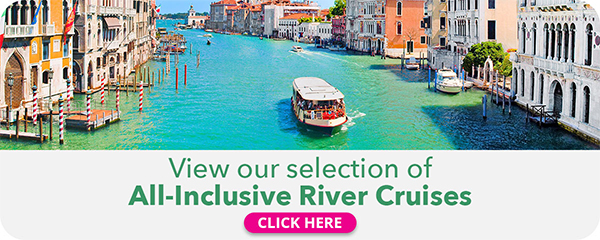 European river cruises from just £1,299 per person.
Tour medieval towns and hilltop castles along the Rhine, explore the grand capital cities lining the Danube, or sip a glass or two of rich port while gliding past Douro Valley vineyards. Scroll down to take a look at our latest offers (or browse our cruise collection online to see voyages along the Seine, Volga, Nile and more).
Each one offers fantastic value for money, with our VIP door-to-door travel service, all meals on board and a selection of shore excursions included in the price.
This selection of river cruises introduces you to a relaxed and convenient way to explore Europe. Enjoy ever-changing landscapes en route to a host of different destinations aboard your elegant ship, and unpack only once! Take trip to some of Venice's hidden gems, experience a lively flamenco show in Andalucía, and visit Medoc, renowned for its fine red wines.
All aboard
Treat yourself to a last-minute cruise on the Rhine, Danube or Dutch Waterway

Whether you're travelling with a partner, family, friends or solo, there's plenty to tempt you. Why not take a look and see if anything catches your eye?
*Beer and soft drinks are available if you prefer.
Please note that on-board Wi-Fi speeds may vary.
Drinks Package
For all river cruises we offer a selection of drinks packages available to purchase and the price is £69pp for this cruise. This includes the following with lunch and dinner: draught beer; non-alcoholic beer; soft drinks; juices; red, white and rose house wines; and wine recommendations from the menu.
If you choose not to purchase a drinks package, there is a vast selection of drinks on board each ship available for individual purchase. To see an example wine list please see our information regarding life on board.
The drinks package must be added to your booking for all passengers in a cabin prior to departure and you can do this by calling the reservations team.
Take a new adventure with our All-Inclusive River Cruises! Cruising through continental Europe and with air-conditioned, en-suite cabins and a full range of excursions included and starting from just £869pp, you'll find an amazing deal here for your next getaway.
A world of river cruises to explore.
As well as voyages on our exclusively chartered vessels, it's worth remembering (should you fancy something a little bit different) that we offer a great choice of sailings on ships and rivers all around the world.
If it's absolute luxury you're after then look no further than Spirit of Chartwell on Portugal's Douro, or the worldwide offerings of Uniworld, including Venice, the Mekong and the waterways of France's Bordeaux region.
Talking of France, the sailings with our friends at CroisiEurope should be the go-to itineraries for any Francophiles. On board their small 'barges' you'll enjoy delicious food and drink while exploring rivers and regions barely touched by tourists. A real insight into regional France.
Elsewhere, you can sail the Mississippi on an iconic paddlewheel riverboat, glide down the lifeblood of the Pharoahs with Presidential Nile Cruises, or discover the majesty of China's grand Yangtze.
River cruises from £799pp
Cruise the Rhine, Danube and Dutch Waterways in 2020 aboard MS Bellejour & MS Serenade 1
It's not long until our river cruise ships cast off for their first sailings of 2019, but we're already looking ahead to 2020. We've just released next year's itineraries – and there are some great ones to choose from. All the usual Titan touches are included: VIP transfers from home, knowledgeable tour managers and cruise directors, onboard entertainment, and free-flowing wine and beer with lunch and dinner.
And the best part? They're at their lowest prices, so by getting yours in the diary now, you're guaranteed the best price on your chosen cruise. If we drop the price at any time before you sail, you'll be refunded the difference in cash automatically – that's a promise.

River cruising is a fantastic way to see the world. But with so many options, where do you begin?
In Europe, the two biggest names are the Rhine and Danube (both of which you can sail on our exclusive Titan voyages). Expect castles, cathedrals and storybook-style medieval towns aplenty. The Dutch Waterways are ideal for springtime voyages, while the Douro is spot-on for wine lovers (and those who fancy travelling on the same ship as the Queen). For added luxury, take a look at Uniworld, Scenic or A-ROSA; for a boutique feel, look to Croisi-Europe's French barge voyages.
Further afield, you could sail along the Nile, stopping off at ancient tombs and temples; cruise down the Mississippi on a classic paddle-wheel steamboat; or glide along Myanmar's Irrawaddy River on a beautiful teak ship.
If you're looking to get away this year, we've got some great last-minute availability on 2019 cruises (see below for a selection of our favourites). If you want to get next year's trip in the diary, our 2020 dates have just launched, with prices starting from just £799 per person.
When you're on board a Riviera Travel river cruise ship, you're staying in a floating, luxury boutique hotel. Our fine fleet of five-star and four-star superior vessels are hallmarks of distinction and truly world-class. Primarily Swiss-built and operated, they are rated by the Berlitz Guide to River Cruising as some of the finest river cruise ships to grace Europe's waterways.

World-Class Facilities
Our suites and cabins are among the largest on any river cruise vessel – 83% of our cabins feature a French or full balcony. They are well-appointed with all the facilities you'd expect from a luxury boutique hotel.
Choose from a range of standard or superior suites and cabins. For the ultimate in luxury, treat yourself to a stay in a deluxe suite with floor-to-ceiling doors that open up to a French balcony or lead to a private balcony.


Fine Culinary Experiences
A river cruise is a wondrous journey of discovery. With Riviera Travel, we offer a wide variety of fine dining experiences waiting to be savoured. From sumptuous breakfasts with over 60 options to superb buffet lunches and fine four-course dinners, our menus feature international classics and regional specialities.
So much is included in the price
Return flights from a choice of regional airports or travel by Eurostar, plus transfers
Spacious cabins and suites with beautifully appointed en-suite bathrooms and river views
Exceptional dining from early risers' breakfast to midnight snacks
Fascinating tours and excursions with expert guides and tour managers
Complimentary tea, coffee and Wi-Fi on board
Book Your Escorted Tour Online Today