Australia Escorted Tours 2022/2023
Get ready to be captivated by all things 'Down Under'. A visit to Australia is a true bucket list trip - the big country with an even bigger heart - it's impossible not to fall in love with the ancient landscapes and compelling culture.
Australia Tours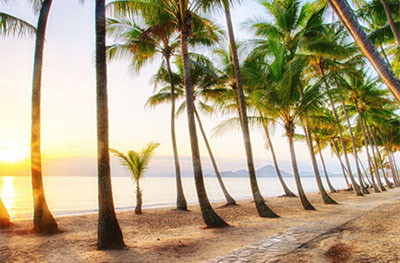 Spend 4 nights each in Sydney, Melbourne and Palm Cove; see Uluru and the Great Barrier Reef; and drive the Great Ocean Road en route to Adelaide.
Fly from five UK airports
22 days from £4,999pp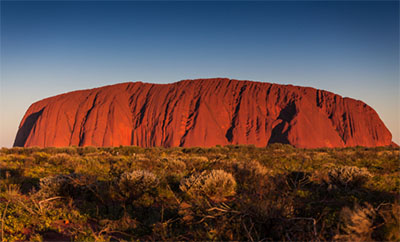 Journey from Sydney Harbour to the beaches of Perth, via cosmopolitan Melbourne, tropical Queensland and the Red Centre.
Fly from five UK airports
19 days from £3,999pp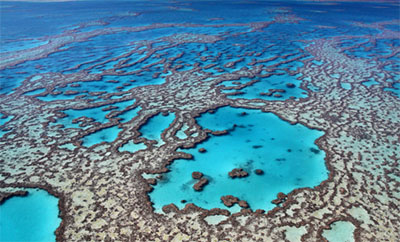 As well as icons like Sydney, Uluru and the Reef, this month-long adventure includes Kakadu's creeks and beachy, bohemian Noosa.
Fly from five UK airports
30 days from £6,499pp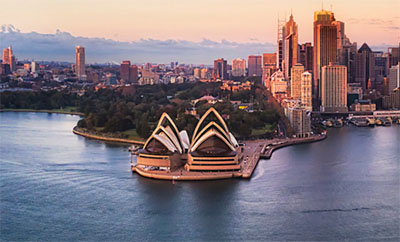 See Uluru and the Reef, and explore Perth and Sydney. Then fly to New Zealand to discover fiords, mountains and Maori traditions.
Fly from five UK airports
26 days form £6,399pp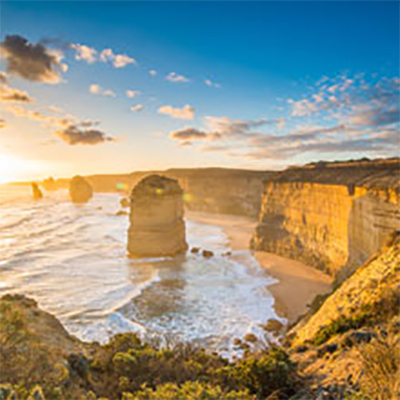 This epic tour will introduce you to Australia's iconic cities, most famous landmarks and diverse natural wonders.
Save up to £500 per couple
30 days from £7,049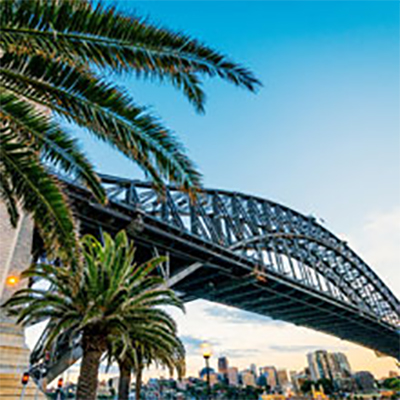 Over 20 days you'll tour vibrant cities and head to many iconic sites. You'll see Uluru at sunset and sunrise and explore the Great Barrier Reef on an exciting catamaran cruise.
20 days from £4,749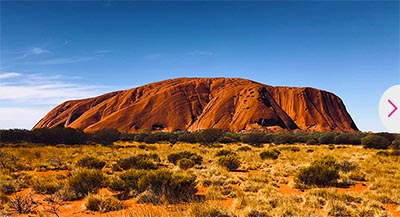 Discover the Great Barrier Reef on a full-day catamaran cruise, explore Australia's bustling capital city & enjoy a Sydney harbour cruise, witness the impressive scenery & wildlife at the Blue mountains and more.
From £3,799pp | 18 days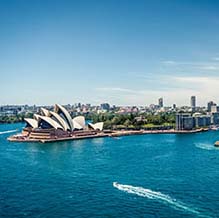 Save up to £500 per couple
Iconic cities, famous landmarks and natural wonders are waiting to be discovered as you journey from Melbourne to Brisbane to explore the highlights of Australia.
22 days from £5,749
Australia's Blue Mountains
Three ways to explore the gorges, valleys and ancient forests of this World Heritage area.
The Blue Mountains spread across a million acres, and are blanketed in eucalyptus forests (which cause the blue-tinted haze that gave the area its name). They're just a couple of hours from Sydney, so make a great day trip. On our optional excursions here, we'll head for the Jamison Valley, one of the most spectacular parts.
Scenic World offers a trio of options to explore. Scenic Skyway is a glass-floored gondola. It glides across a gorge 270 metres above the valley floor, offering 360-degree views of Mount Solitary, the famous Three Sisters rock formation and Katoomba Falls.
Scenic Cableway (a panoramic cable car) and Scenic Railway (the world's steepest passenger railway, with a staggering 52-degree incline) both take passengers down to the valley floor. At the bottom, a walkway through ancient rainforest links the two attractions, so you can journey down on one and back up on the other if you like. Or walk one direction – the paths are steep but the surroundings are stunning.
From reef to rainforest
The Great Barrier Reef stretches 2,300 kilometres along the coast of Queensland.
Thousands of different marine species call the corals home – don a mask and flippers (or board a glass-bottom boat) and you could be spotting angelfish, clownfish, blue tangs, turtles and more.
The Great Barrier Reef isn't the only attraction up here, though. You can journey through some of the world's oldest rainforest at Kuranda, where a gondola can take you high above the canopy. And you can see where rainforest meets reef at Cape Tribulation – one of the most beautiful beaches in all of Oz.

We include tropical north Queensland on all of our Australian tours. All you need to decide is what you'd like to combine it with. The Top End, Red Centre and Sunshine Coast on 'Grand Tour of Australia'? New Zealand's fiords and glaciers on 'Grand Antipodean Odyssey'?
Spotlight on: Sydney
You've likely seen it a thousand times on postcards, in magazines and on TV.
But there's nothing quite like standing on the edge of Sydney Harbour, surveying the city's iconic skyline.
With its golden sandy beaches, leafy parks, yacht-dotted marinas and gleaming skyscrapers, Sydney is one good-looking city. We think it's a must-do on any Australian itinerary, so we've made sure to include time here on every one of our tours 'down under'.
We'll help you get to know the city with a guided tour and cruise around the harbour, and give you free time to explore on your own. Museums, shops, galleries, walks – there's heaps to see and do. Just make sure you save at least a few hours for some Aussie favourites – a relaxed brunch (Australia does it better than anywhere else), a wander along the waterfront and a chilled glass of chardonnay in a sunny pub garden.
Visit Bondi Beach
This huge curve of sand is one of the most famous beaches in the world. Stroll, swim, surf or simply soak up the atmosphere.

Explore the Rocks
One of the oldest parts of the city, the Rocks district boasts plenty of Victorian character and a great shopping and dining scene.

Stroll through the Botanical Gardens
The Royal Botanical Gardens is a lovely oasis in the city centre. Entry is free, plus you'll get photo-worthy views of the harbour from here.

See Sydney Opera House
The Opera House's white sails are instantly recognisable. They're best seen from the water on a harbour cruise – we include one on every tour.
Spotlight on: Perth
Australia's sunniest city has often been overlooked in favour of Sydney and Melbourne.
But over the past few years, Perth has been making a name for itself as one of the hottest destinations to add to an Aussie itinerary.
First, there are the beaches – miles of soft white sand lapped by the Indian Ocean. Then there's the riverside scenery; the Swan River wiggles its way through the city, with shady parks and picnic areas lining its banks.
And, of course, there's the cuisine. The dining scene is one of Australia's most exciting, with everything from pop-up restaurants and vegan bistros, to wine bars pouring local vintages and coffee shops serving flat whites in sun-dappled gardens.
Three of our Australia tours include time in Perth. On all of them, we've allowed a day at leisure for you to get to know this lovely, laid-back city. Scroll down to find out what else is on the agenda for each one…
Spotlight on: Adelaide
South Australia's capital often flies under the radar for visitors to Oz.
But why is anyone's guess. Not only is Adelaide itself a joy to explore (think galleries, parks, pop-up boutiques and an incredible foodie scene), but surrounding the city you'll find dramatic coastal landscapes, beautiful sandy beaches and rolling vineyards that turn out Australia's finest wines.
On 'The Best of Australia' we'll spend three nights in Adelaide. We'll make our way from the Great Ocean Road to Coonawarra, one of the state's 18 wine regions, for a tasting with views over the vines. We'll then see kangaroos and koalas at Cleland Conservation Park and enjoy a sightseeing tour of the city. Your final day here is free to do whatever you please – scroll down to see our favourite suggestions.
Stroll through the Botanic Garden
Adelaide's 50-hectare Botanic Garden is a lovely place to while away an afternoon, with its 19th-century Palm House and wisteria-draped arbours.

Go wine-tasting
South Australia is a 'Great Wine Capital of the World', so why not spend a day swirling and sipping in the wineries of the Barossa Valley?

Discover the stunning Fleurieu Peninsula
Forty minutes' drive south of the city is the Fleurieu Peninsula, home to sweeping sandy beaches, turquoise waters and superb seafood restaurants.

Have lunch at Adelaide Central Market
This covered market is a great place to grab picnic supplies. Stock up on local cheese, ham and bread, or enjoy brunch at one of the cafés.
Experience an Outback-meets-tropics vibe in Australia's far north.
In Kakadu National Park and Katherine Gorge, you'll find rugged, untamed Oz at its very best. Serene billabongs attract all manner of birdlife, sandstone gorges hide ancient Aboriginal rock art and freshwater crocs sunbathe on the banks of winding creeks.
The big city up here is Darwin, nestled on the shores of the Timor Sea. Its balmy temperatures (expect high 20s and early 30s all year round) and Asian influences give it a more exotic feel than other Australian cities. Discover the region's rich history at a cluster of fantastic museums, or perhaps browse one of the outdoor markets for a souvenir or two.
On our Australian grand tour, we'll spend five nights in the Top End – three in Darwin and one each in Kakadu and Katherine.
Field of Light
Uluru is pretty spectacular to begin with: a soaring sandstone monolith surrounded by the vast, empty Outback.
Add 50,000 frosted glass spheres glowing as the sky fills with stars, and it transforms into a truly magical sight. We've snapped up tickets for Bruce Munro's spellbinding light installation for anyone travelling on 'The Best of Australia' with us. You'll need to be quick, though – this 'Field of Light' will only be in place until the end of 2020.
You'll also have the chance to watch the rock's changing colours during sunrise and sunset viewings. At sunset, we'll enjoy a glass of wine – the perfect way to toast the end of another incredible day in Australia.

Australia's greatest road trip
You can't bore of the endless views of nature's beauty and ruthlessness.
Travelling west along Australia's impressive Great Ocean Road, the hot sun's reflection sparkles on the water's infinite surface to your left. On the other side spreads the Great Otway National Park, where koalas cling to eucalyptus trees.
This spectacular road has followed the twists of weathered southern coastline since 1932. It was built by the hands of more than 3,000 soldiers as a 150-mile memorial to those who didn't return from World War I.
On 'The Best of Australia', we stop at one of Australia's most photographed natural sights - the Twelve Apostles. No-one knows how many of these extraordinary limestone monuments once stood along here, but eight have stood against the stormy Southern Ocean for 10-20 million years.

As we continue beyond the '12 As', you might catch a glimpse of a mast marking the remains of a ship resting on the sea bed; or spot southern right whales playing just off shore as they migrate to and from the cold Antarctic waters (May to October). This section is known as both 'Shipwreck Coast' and the 'Whale Trail'. Can you spot one?

Book Your Escorted Tour Online Today
Disclaimer: All prices are 'from' prices, they may not be available on every date. *Please refer to the tour itinerary regarding excursions and entry fees. Lead-ins are based on the best value flight and airline available at pricing and include all available discounts. Prices are per person. Other durations, dates and departure airports are available at a supplement. All prices are subject to availability and can be withdrawn without notice due to airline availability. Single traveller supplements may apply. Terms and conditions apply