Machu Picchu Tours 2022/2023
Visit the 'Lost City of the Incas': Machu Picchu. A winding bus ride takes us all the way up to the city itself, where we are greeted by one of the most incredible sights in the world. Explore the fascinating history of this awe-inspiring site that was forgotten for 400 years and remained undiscovered until 1911. Machu Picchu is now a UNESCO World Heritage site, as well as being one of the New Seven Wonders of the World.
Machu Picchu Escorted Tours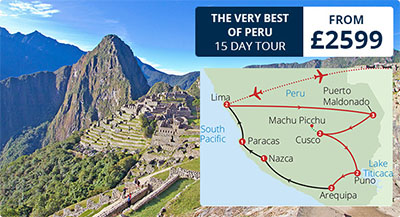 Explore Peru's incredible diversity as you journey between dense tropical rainforests, ancient historical cities, dune-filled beaches and the snow-capped volcanic peaks of the Andes.
From £2,999pp - 15 day Escorted Tour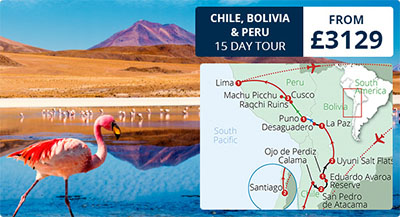 Travelling from the Chilean capital Santiago, through breath-taking Bolivia, and concluding at magnificent Machu Picchu in Peru, this unique 15 day tour is truly an Andean adventure.
Based on 24th Nov 2019. More dates available.
From £3,599pp - 15 day Escorted Tour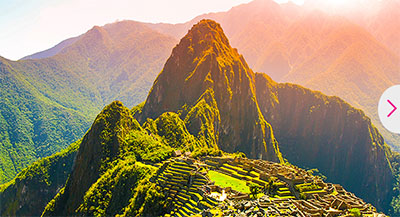 See the historic ruins of Machu Picchu, tour the UNESCO World Cultural Heritage Site of Lima, explore the Colca Canyon & the Inca Fortress at Ollantaytambo and more.
From £2,489pp - 12 day Escorted Tour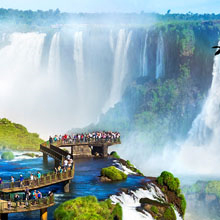 ​If you're feeling adventurous this is the tour for you. Over 18 action-packed days you'll experience many thrilling highlights as you journey to Peru, Bolivia, Argentina and Brazil. Tour Lima, the 'City of Kings', and Cuzco, once the capital of the Inca Empire, and discover the iconic 'Lost City' of Machu Picchu, nestled on a mist-shrouded mountain.
18 days from £4,649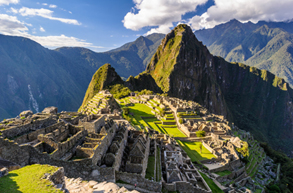 On this thrilling journey through Peru, you'll discover the heart of the Inca Empire at Machu Picchu, encounter soaring condors at the mighty Colca Canyon and sail on the waters of Lake Titicaca. Discover the many UNESCO-listed sites of Cusco and join a local family in the remote village of Huilloc to learn how to cook a delicious regional dish.

15 days from £4,240pp

A once-in-a-lifetime opportunity to experience one of the world's most breathtaking sights - the Incan city of Machu Picchu - whilst experiencing the best of Peru on a luxury rail tour.
15 Days from £4,495PP
Book Your Machu Picchu Escorted Tour Online Today